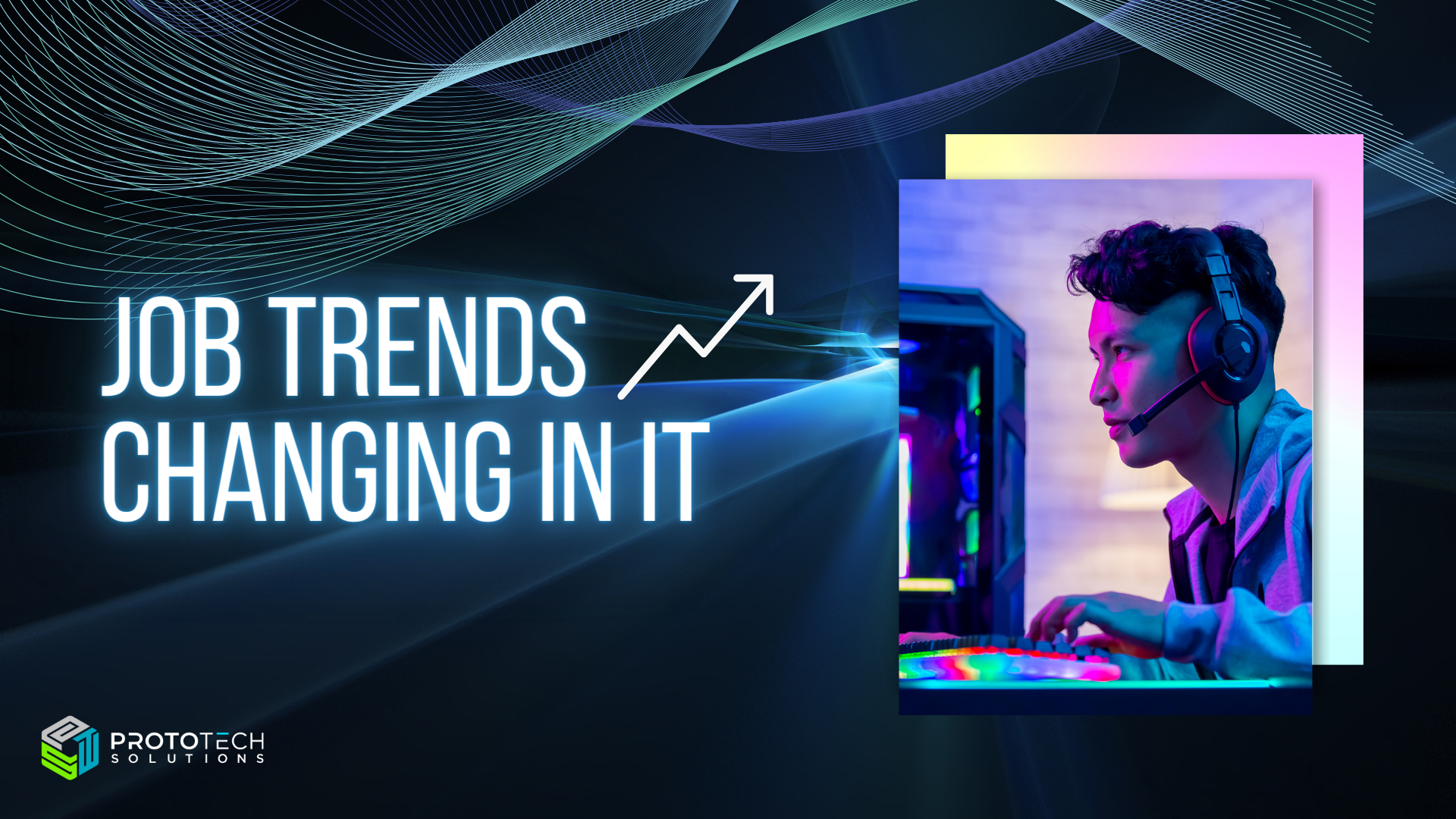 Job trends changing in IT
Job trends changing in IT
Nowadays in newspapers, we get to know that there is an ongoing recession in IT (Information Technology) sector as many jobs are getting automated. The countries like the USA are making their visa rules strict. Chances of job loss and loss of onsite opportunities have become a nightmare for many IT employees currently.
We all have experienced the golden days which the IT sector had shown to our country. In the 90's, after India opened the door to the world economy, IT sector started booming.
IT has been one of the better options to pursue a career for college students in India. It has provided a wide range of things for many youngsters in this country – whether it's money, fame, onsite visit, etc. In the early 90's, many people from our country were contradicting IT field, saying that the introduction of computers will make many manuals and labor jobs vanish. Though it proved right for few jobs, IT also created vast types of new jobs for Indians. Many American companies started to open their offices in India to make use of Indian talent and workforce. This was beneficiary to them as they could outsource their work in less money.
The two major reasons behind choosing the IT career were- money (in dollars) and onsite visit opportunity. Becoming a software engineer was a dream job of the youth and the students started getting their dream job as many companies opened their offices in India at Pune, Bangalore, Hyderabad became the IT hubs. Few Indian IT companies also got launched and Indians started feeling proud of this sector.
What went wrong:
If we have a look at this field especially in India, we will come to know that there is a lack of innovation and fundamental research. Most of the jobs which these youths are doing are similar to any labor job! In past, many young people got these types of jobs as it was not a big deal. So currently we are facing a situation in which a big crowd is either jobless or get a small amount of salary.

Many engineering colleges have empty seats every year as there is a gap between supply and demand. Students don't get to learn the things in college which are necessary for IT industry. In my college life, I got to learn around 11 computer languages till M.Sc.(C.S.), but still, it was necessary for me to get the certification in the language in which I wanted to get the job. This happens as there is a big gap in what colleges teach us and what skill set IT company wants. Till these companies were getting new projects and till there was a need of the human resource, there was no threat to jobs.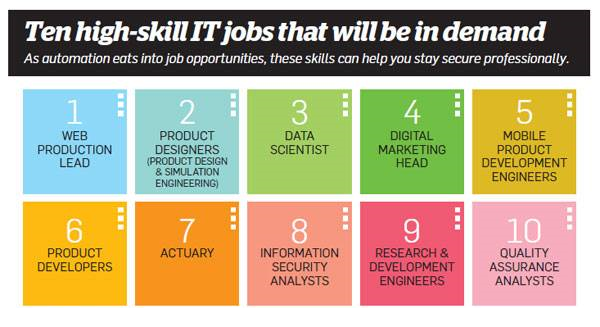 Ten High -Skill IT Jobs                                                                                                     

Change in technology:
Technology is the thing which changes for sure. The invention which we see today becomes the need of tomorrow. As necessity is the mother of invention, we get to see new products and services almost daily. Companies use new and fast-paced technology to ease our daily life.
IT companies have started to use Artificial intelligence, Machine learning, Cloud computing, Big data analytics services etc. as a solution to many problems. Automation is becoming the key task for many companies, as it saves time and money. There is a rising need for automation testing and thus manual testing jobs are reducing.
SMAC is the term being used in today's market which means – Social media, Mobile technologies, Analytics (big data) and Cloud computing. There will be rising demand in these streams in coming years. We can learn new software or tools related to such fields.
How it will affect on Job
What to do now:
To improve our skill sets is the most important thing we can do today. Learning new languages and technology is must to survive in today's IT market. Also, we have to change our mindset. We must not choose IT career just to earn big loads of money and to go onsite. We can find many ideas for the betterment of this society and our country. Students can also get their career in research and not only in fixed jobs.
Also, start-ups are the best option in front of us. Many of us don't like to do a repetitive or boring job. These people can start their own business in IT. In the coming future, we may get smart city projects from the government. IT sector is somehow dependent on other sectors. These public/private sectors want their work to be computerized. So whenever these sectors develop, there is a chance for IT field to get more work.

Every profession keeps flowing. Many jobs are lost and many new jobs get invented. Instead of fearing to this situation, we should learn how to fight and survive from this threat.
There is a famous quote – "Cream always rises to the top". It means you will surely get to the top if you keep doing great things. A good person or an idea cannot go unnoticed.
Author: Aniket K.
Contact us:
info@prototechsolutions.com
ProtoTech Solutions