Best Tools for Augmented Reality App Development for 2022
Best Tools for Augmented Reality App Development for 2022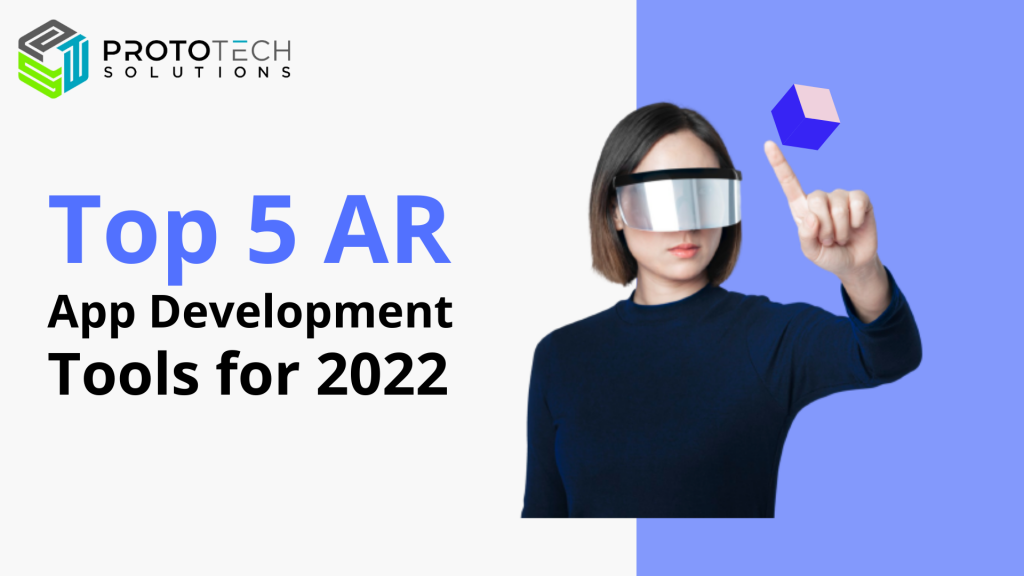 It wasn't until Apple and Google started working on it that Augmented Reality (AR) became generally recognised. Companies have flocked to Augmented Reality (AR) since Google announced plans to use it in search results. This has made AR a prominent research area. In this pandemic, Facebook's future development goal is to leverage AR and VR to "supercharge remote work and productivity" (COVID-19).
Like Lenskart or PokemonGo, you've probably marvelled at the incredible merging of the digital and real worlds. Seeing and hearing in 3D is easier since our brain is the world's most powerful 3D computer. What if you could use Augmented Reality to better communicate with clients?
As shown by the following statistics, Augmented Reality (AR) is increasing popularity among both businesses and consumers:
According to

Gartner

, almost 100 million customers will shop in augmented reality-based retailers by 2020

According to

Statista

, the number of augmented reality app downloads is expected to reach 5.5 billion by 2022
Previously assumed to be limited to the healthcare and entertainment industries (such as video games), AR has recently spread to virtually every area, including e-commerce. Due to AR's suitability, organisations are adopting it into their business in different ways-
Augmented Reality that's been triggered
Any of these events can trigger augmented reality. Caratlane is a fantastic example of dynamic AR. Finding My car via augmented reality is one example. Like Google Glass, which takes data from the internet via markers, GPS, and other input devices.
Augmented Reality Through Indirect Means
Photo Augmented Reality (PAR) is AR applied to a still image (PAR). You may utilise the app's capabilities to pinpoint portions of an image to enhance your modifications. Use Asian Paints on the walls for the best colour. Allowing clients to test before investing aids in deliberation.
Developing Augmented Reality apps makes use of a wide range of tools. This article will examine the top 5 augmented reality app development tools available today.
Top 5 Augmented Reality Mobile App Development Tools 2022
The SDK (Software Development Kit) is a critical component in the software development process. An augmented reality SDK is a software engine that manages the development and functioning of augmented reality apps, seeking to mix digital information with the real environment and bring forth flawless integration in the face of the app's services. Though the market is flooded with AR toolkits, let's look at the top 5 tools.
1. AR ToolKit
More than one million people have downloaded AR ToolKit, a 2001 open-source software named AR Toolkit, according to Businesswire. Apps that use Augmented Reality frequently have problems establishing the user's viewpoint and angle while tracking a real-world object and producing a virtual version for that user. Solving this problem may be a difficult task in the long run.
ARToolKit uses computer vision algorithms and video tracking libraries to track camera calibration and object orientation and then builds virtual imagery for the same using computer vision methods and video tracking libraries. The high-speed performance of the ARToolkit, which supports the native camera, GPS, and various languages and is distributed across operating systems.
2. Google ARCore
Rather than constraining the app to an expensive high-definition gadget, Google AR Core, as a Google product, is a sophisticated Augmented Reality app creation tool that targets a wider audience by making the app compatible with conventional smartphones as well. Google AR Core is open source and works with Java/open GL, Unity, and Unreal. Google ARCore's standout features include:
Motion Tracking: It is easier to track the location and orientation of the phone in real-time with Google AR Core, thanks to its support for 6DoF
You are aware of your surroundings and are empowered to measure and locate flat surfaces like a coffee table
Light estimation: This allows the app to analyse and modify the illumination in the surrounding area, resulting in a more realistic image
3. Apple ARKit
Apple's contribution to Augmented Reality, ARKit, was unveiled in 2017. The ARKit has a lot of amazing capabilities. Multiple face tracking is possible when using both front and rear cameras at once in the ARKit. Collaboration sessions are beneficial in the circumstances like multiplayer games, for example.
Despite being limited to iOS users, AR Kit has generated a sizable number of augmented reality apps that have been downloaded. Since it was released, a colossal number of Augmented Reality (AR) applications have been created that take advantage of its outstanding features while remaining completely free. 13 million ARKit-based apps have been downloaded since its introduction, according to TechCrunch. This clearly shows how popular ARKit is with consumers.
4. Max ST
According to the company, MaxST is a prominent Augmented Reality app development toolkit that was developed in 2010 with a primary focus on Augmented Reality research and development. The 2D toolkit version of MaxST works with 2D images, places, etc., whereas the 3D toolkit version can recognise, track, and scan 3D real-life objects. MaxST focuses on image trackers, object trackers, QR scanners, and other similar technologies.
5. Vuforia
Vuforia was created by Qualcomm and is now a product of PTC Inc. A well-known SDK for building augmented reality apps is Vuforia. Vuforia SDK is written in C++ and offers access to its API on mobile platforms based on operating systems, such as Java API for Android, C# API for Unity, and C++ API for iOS.
SDKs from Vuforia provide cloud and local storage options, picture and object id/identification, enhanced tracking, and ground plane support.
Augmented Reality SDK Comparison
| | | | | | |
| --- | --- | --- | --- | --- | --- |
| | AR Toolkit | ARCore | ARKit | Max ST | Vuforia |
| Type  | Open Source | Framework | Framework | SDK | SDK |
| Price | Free | Free | Free | Free, Commercial | Free, Commercial |
| Platform Support | A, iOS, W | A (iOS) | iOS | A, iOS, W | A, iOS, W |
| Smart glasses Support | Yes | Yes | Yes | Yes | Yes |
| Unity 3D | Yes | Yes | Yes | Yes | Yes |
| Slam | – | – | – | Yes | – |
| Cloud recognition  | Yes | – | – | Yes | Yes |
How AR May Change The Way We Work?
Consider how computers, phones, and washing machines have changed our lives. They make our lives easier and more efficient, and augmented reality is the next step. Here is a way businesses are using AR today:
Industrial Applications
AR in industrial markets will undoubtedly affect employment. Remote employees can superimpose models over components like vehicle engines and more, indicating markings, faults, and more. It automates manual tasks and eliminates the guesswork.
As an example, NASA employed mixed reality applications to build their new spacecraft, eliminating the need for manuals and difficult instructions.
For knowledge or information, Augmented Reality (AR) has reduced our dependence on external things like paper or small screens by increasing the dimensions and enhancing our ability to interact with data. As opposed to following the learning curve, AR focuses on enhancing brain productivity instead.
In light of AR's impending dominance, now is the moment to expand your business's thinking beyond the constraints of physical venues. Customers are more likely to relate to and invest in your business if you can properly communicate your business's concept and message to them. Because of this, an AR-enabled app with good narration could be effective in this case. Hire an AR Developer and see your business soar like never before.
Real-time projects for AR and VR App Development have been built by ProtoTech for a variety of clients and we are extremely familiar with them; we are knowledgeable about the tools needed to construct these applications as well. Do not hesitate to get in touch with us if you want any app made.
For more queries regarding any of the above-mentioned topics, feel free to connect with us on our website https://prototechsolutions.com, or email us at info@prototechsolutions.com