Autodesk OEM launch India May 27, 2020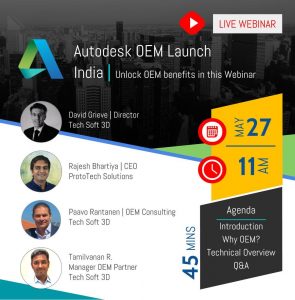 In this fast-changing technology landscape, companies can't afford to spend years in building products. And you are in the engineering/CAD/BIM domain, you know the time and investment it to make an MVP. Do you want to solve this? Do you want to bring your idea to market quickly? Do you want this product to be affordable? Most importantly, do you want this product to be a professional-grade Autocad, Inventor? It's possible.
Join our OEM gurus David Grieve & Rajesh Bhartiya for an action-packed (and actionable) webinar on Wednesday, May 27, at 11 AM IST.
In 45 minutes you will know how to
1. Unlock OEM benefits you always wished for, offering value-added end-to-end customer solutions
2. Modernize existing products and stay on with your brand
3. Increase profits crushing down heavy software costs
4. Meet complex requirements; accelerating your time to market.