Digital Twin and Digital Thread – The Innovation way to track PLC
Digital Twin and Digital Thread – The Innovation way to track PLC
 Digital twin is nothing but a graphical representation of your physical asset. Visualizing data for each department in a manufacturing organization is too complex. Previously, product designers used to refer to 2D drawings provided by the engineering department. But reading 2d drawings needs a special skill. There could always be chances of miscommunication between the design and manufacturing department. Digital twin is an effective communication medium to solve such issues as well as data visualization and predicting future scenarios.
Below are different types of digital twins that are getting implemented in the industry 
1. Digital product twin
It is used in product development. It allows you to commission a product virtually before manufacturing begins. The data collected during this simulated operation helps improve every aspect of the product. This involves 3D / CAD models, testing properties and the simulations required during product development.
2. Digital factory twin
It is used while planning factories, machines, systems, tools and testing programs. This kind of digital twin supports, monitors and optimizes production processes.
3. Digital service twin
It is a product's digitized memory. It involves production figures and information about processing times, adherence to stipulated delivery times and product quality.
4. Digital twin of organization
The digital twin of organization facilitates optimized, comprehensive planning of all of the processes in a business, and increases data security and data protection.
Digital thread is a communication framework that connects traditionally siloed elements in manufacturing processes and provides an integrated view of an asset throughout the manufacturing lifecycle. Some examples of digital thread are model based definition and its downstream consumption. BOM transformation (EBOM to MBOM to SBOM) sharing the same data model with PLM, ERP and MES. Digital thread helps you to get the required data at runtime. 
3D modelling and other digital tools creates a large amount of data in each department like engineering, manufacturing, service etc.  This data needs to leverage to take accurate decisions and for that consumption of unique data models across all systems is very much important. Digital thread strategy to streamline the data and utilize a single source of truth among different systems.
Fig: Digital thread and digital twin data flow in the automotive industry
Digital thread and Digital twin workflow
1. Consider a Pre-maintenance scenario of an automobile or an aerospace.
2. Sensors are already mounted on actual devices. 
3. IOT is continuously fetching and monitoring the real time data from devices. Threshold limits are predefined. 
4. Real time data is crossing the threshold limits. E.g. the temperature of the device is exceeding its limits.
5. IOT sends the triggers to system engineers who are using the PLM platform.
6. System engineering uses a traceability matrix to identify the root cause.
7. System engineers assign tasks to different departments like design to update the design, manufacturing to update routings and service engineer to visit the actual site and fix the issue.
8. Service engineers use AR/VR to visit and fix the issue: Next big thing in most of the business sectors is with the further evolution of Digital Twins powered by AI and ML with consistent flow of data that helps in getting the best possible analysis and insights regarding the asset which helps in optimizing the business outcome.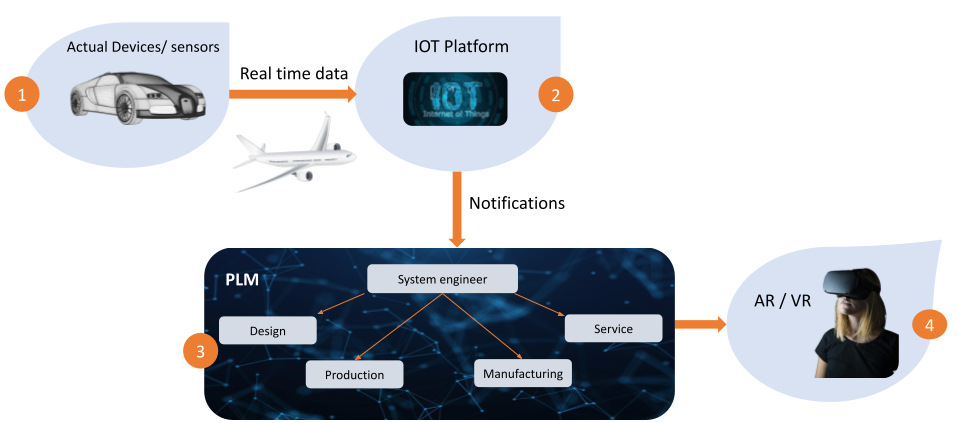 Fig: Digital thread and Digital twin workflow
Usage of Digital Tread and digital twin is in below industries 
1. Agriculture – Forestry, grains.
2. Mining – Coal, metal, minerals.
3. Manufacturing – Aerospace, electronics, medical devices, data visualization.
4. Industrial facilities – Oil and gas, power, shipbuilding, pharmaceutical, chemicals.
5. Mobility – Personal and public transport.
6. Unmanned – Aerial, ground and marine.
7. Building and infrastructure.
8. Smart cities and nations.
9. Automotive Industries – Digital Twins in the automobile sector for creating the virtual model of a connected vehicle. They can capture the behavioural and operational data.
Digital twins powered by ai and ml
Data visualization in manufacturing
Design and development of digital twin
IOT and digital twin incorporation
Data visualization in manufacturing: Leverage Data Visualization in Manufacturing in impacting the operational efficiency of a manufacturing firm. It ensures everyone is working cohesively towards a common goal, leading to increased engagement and productivity.
Design and development of digital twin: With the design and development of digital twin, that helps in creating virtual replicas of objects or processes that simulate the behavior of the real counterparts to understand, predict, and optimize performance in order to achieve improved business outcomes.
IOT and digital twin incorporation: Incorporation of IOT and digital twin provides a virtual representation of a physical asset, a machine, a vehicle, or a device and also digitally represents the data, processes, operation states, and life cycle of the asset.