How Augmented Reality (AR) is changing the face of CAD/CAM?
How Augmented Reality (AR) is changing the face of CAD/CAM?
Of late, it comes as no surprise that product design and manufacturing stages are generally the ones still comparatively away from adopting new digital technologies. Don't believe me?  Well, think of the tedious job the draftsman (until quite recently) would have had to do when he must be drawing all the designs in 2D/3D with the mechanical scale and pencils on paper sheets. Needless to say, architects and designers have long relied on physical models, paper, and fields visits to convey design ideas on projects. Stupefying though it may sound, it's true indeed, that with the digital era bringing in technological advancements in CAD/CAM software, companies could make product design and assemblies to be more realistic to the designers and engineer than ever before.
Not only limited to this, but nowadays tech-savvy industry players are harnessing the power of the new wave of digital technology and Industry 4.0 to bridge the gap between the physical and digital world. Use of Augmented Reality (AR) in this case is a perfect example of how modern day technologies are changing the game, while the CAD companies are setting the stage for it to thrive.
For those uninitiated, the term 'Augmented Reality' created the majority of the buzz with the overnight popularity of a game called as Pokémon Go in 2017. However, in the software field, this technology had already approached the mainstream awareness a few years back, primarily on the cusps of the profound contribution of renowned tech-behemoths including Google, Apple, Facebook, and Magic Leap.
Recently, Apple announced the launch of its flagship AR technology ARkit and has already demoed a flashy AR game at the iPhone X launch event. Facebook introduced its AR Camera Effects Platform, while Google launched ARcore and Magic Leap recently launched its augmented reality headsets Magic Leap One.
Clearly, AR technology has undeniably gained steam early among the tech-behemoths and video gaming industry giants, however, the technology is now furthering its reach to other verticals, including product development. The integration of AR with CAD has in fact allowed the designers to create, improve, and even test products in virtual space before they actually get manufactured. This; in turn, has helped the product designers and manufacturers to save big on time and money.
What can we achieve with AR today?
Google and Apple have strived hard to create ARCore and ARKit for the current generation of developers so that they do not need to worry about the algorithms to make augmented reality possible, but rather create applications with great user experience on top of it.
We can:
Detect any surface i.e. Vertical, Horizontal, and even slopes.
Create a multi-user experience with Cloud Anchors, imagine a virtual world over ours which you can see through your mobile phones and look at the same creature/model in AR.
Measurements, these frameworks can measure the world in meters near to accurate
Detect images and objects
All of this can be achieved with support for best in class development tools: Unity 3D, Android Studio, Xcode and Unreal Engine
How Augmented Reality is likely to fare in product design software?
One of the key advantages that AR brings to CAD is its power to illustrate a design that exists inside of the CAD software as it would look in the physical world. This will be done by using two interfaces; the visual target and the software. If you ask us, let's assume you're developing an IC engine or any aspect of a car's interior. Augmented reality with the help of CAD data will actually let you sit inside your design as you are creating it, giving you a more enhanced experience in viewing angles and product specifications; however, it won't be as immersive like the Virtual Reality. By overlaying the digital data of design elements, designers will be able to look through the design onto the real environment. This has practically heralded the designers and engineers into using AR technology to visualize different sets of prototypes and hypotheses.
Over the past couple of years, the execution of this concept has all become possible with the right amount of computing and machine learning power, 3D digital data, CAD software, and with Smartphone or tablet with a high functioning camera.
To say it in technical terms, eDrawings in a plugin for CAD software has enabled designers to get augmented 3D data, by simply scanning the printed QR code through the camera. As the target takes a form of a QR code, it syncs the location of digital 3D data which is already available with CAD software files, into the real world of viewing – letting one look up down and around the designed object originating from a computer screen to appear in the real world.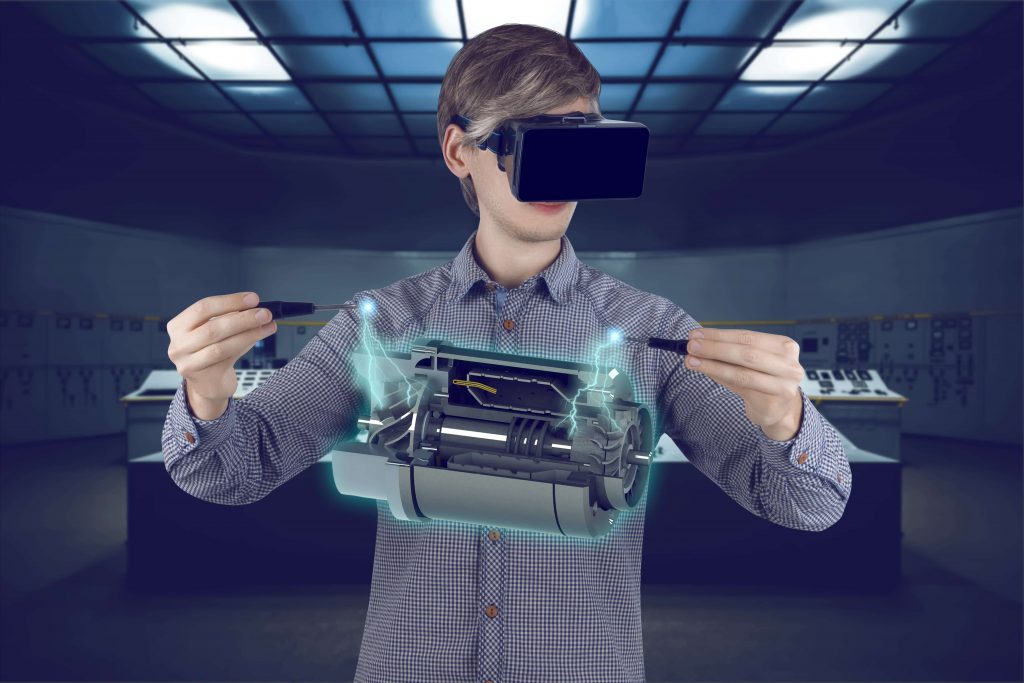 AR headsets, in this regard, will soon be a part of the designer's toolkit. As AR is bringing CAD users into the era of mixed reality, it is further expected to magnify the extensibility of 3D content allowing the user to see 3D digital data. The following hardware options have applications in the world of CAD and are allowing the user to leverage 3D data into the real world. The design engineers are also seen using the popular Microsoft HoloLens, Oculus Rift, and ODG R-7 Smartglasses as the hardware options for experiencing AR. For the record, these may be popularly used as VR options, however, they also can be modified to AR usage.
Speaking of the software option for CAD, AR Core – developed by Google is gaining tremendous traction as it allows users to seamlessly build its applications with animated 3D content including objects, words, and even characters.
This is not all, The future developments include the integration of Leap Motion software that will allow gesture-driven commands and who knows what else is in store? Regardless of your title or which phase of the design and manufacturing process you are in, AR is something to continue to watch and gain exposure to.
ProtoTech Solutions leverages AR technology to bring CAD models into the real world
Clearly, we are in the race of a significant technological disruption that is set to revolutionize designing and manufacturing through CAD in the ensuing years. With its state of the art CAD software development capabilities, the company is furthering its expansion by providing reliable, fast, and precise solutions for industries and manufacturers. The company recognizes that a lot of people will want to work with 3D things made for their desktops and phones.
While still at its infancy, this company is dramatically changing the way we learn, get inspired and train professionals for product development. Prototech leverages AR Core and AR Kit to develop super easy solutions for the Android and iOS platforms. This software major is further going the whole hog to woo clients and audiences with reduced technical risk and enhanced interpretability. To surf on the technical part of AR and coding it offers read our blog on HTML code in 10 lines to implement AR (using three.js)
For more information about the platform and to grab on their latest 3D add-in, try ProtoTech Solutions
Author: Nayan D
Contact us:
info@prototechsolutions.com
ProtoTech Solutions and Services Pvt Ltd