ProtoTech Solutions – TransMagic tie-up
ProtoTech Solutions – TransMagic tie-up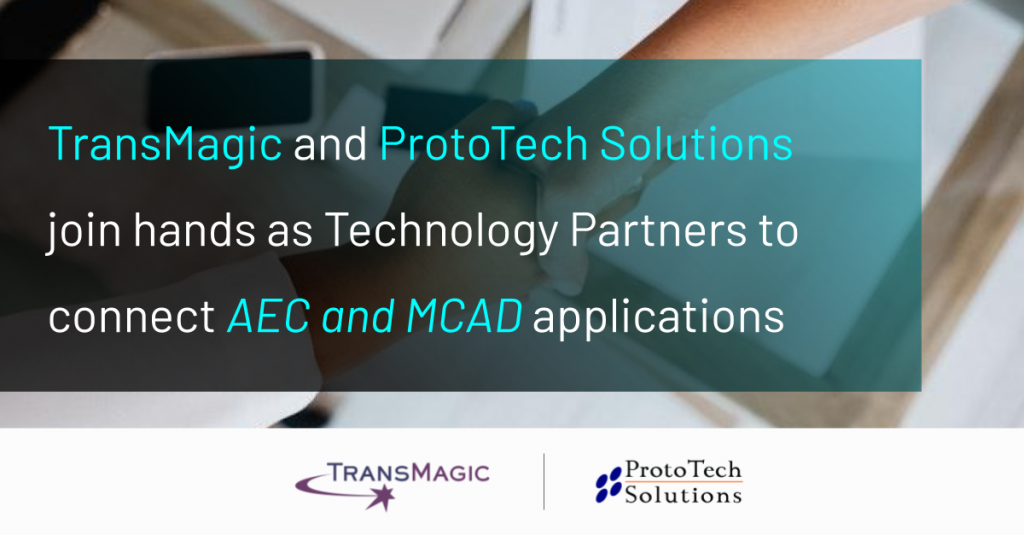 TransMagic, Inc., an industry leader in 3D CAD productivity tools, and ProtoTech Solutions, a custom software development company, have joined forces to bring the AEC and MCAD industries a series of translators that can effectively connect AEC and MCAD applications such as AutoCAD, Revit, Fusion 360, Max, and Solidworks. 
Brief information about our translators on various CAD platforms
STEP

, JT, and Catia V5  Exporter for AutoCAD

STEP, JT, and Catia V5, IGES, Parasolid  Exporter for Revit

STEP, Parasolid, Inventor Importer for Revit
     and many more in the pipeline.
How would the translators be helpful to the CAD community?
Most translation efforts are focused on specific industries. This series of translators will serve the CAD community by bridging the gap between industries, where there is a great need for collaboration, for example where mechanical systems are included in civil and architectural designs. To addon, since CAD software is very expensive, having multiple of them is not feasible, having translators gives the advantage of translating files to the required format.
Statement from TransMagic
"Using our intimate knowledge of 3D geometric data, TransMagic has created individual plugin translators to import and export 3D models from Revit and AutoCAD," stated Todd Reade, CEO of TransMagic.  "We are building strong data bridges between the primary mechanical design environments and the architectural world. Our intention is to make projects become more profitable and efficient by eliminating tedious manual steps to re-use 3D data and communicate design intentions."

Statement from ProtoTech Solutions
"ProtoTech has decades of staff years of experience of working with different formats used in 3D and the interoperability toolkits in the market. TransMagic is a well-known technology provider in this space for two decades now. We are very excited to be partnering with TransMagic and making their interoperability solution accessible to many more." states ProtoTech's CEO Rajesh Bhartiya. 
About TransMagic
TransMagic has re-engineered 3D data interoperability and paved the way for companies to translate and exchange accurate design data with confidence. TransMagic develops productivity tools for manufacturing data, including CAD geometry repair, 3D CAD visualization, revision comparison, and model validation for compliance with aerospace standards.
Know more about TransMagic : https://transmagic.com/
About ProtoTech
ProtoTech Solutions is a software development services provider in the domain of BIM/CAD/CAM/CAE, 3D visualization, and data interoperability. We help global organizations achieve their time-to-market and business goals by developing 3D custom applications, CAD Plugins, 3D Cloud/Mobile/Desktop apps, 3D web apps,  file exporters/importers, machine learning, and a host of mission-critical engineering application projects.
Know more about ProtoTech : https://prototechsolutions.com/
3D CAD visualization
3d cad data for AEC
Convert 3D files
3d data exchange
3D data interoperability
MCAD software
Import and Export 3D Models
CAD translators