ProtoTech launches 3D Measure Up – A tool to measure human body parameters from a 3D scan.
Pune, India, 2nd October 2017 – ProtoTech Solutions launches its new product 3D Measure Up a tool to accurately measure human body parameters from a 3D scan. The main features of 3D Measure Up tool are
Provides measurements of length and girth (circumference) of body parts
Identifies standard anatomical features (head, neck, bust, waist etc.) and provides measurements of the length (head, torso etc.) and girth (chest, waist etc.) of body features
Flexibility to measure girth at any section of the body viz. Wrist circumference etc.
Allows measurements between any two sections of the body viz. Elbow length etc.
Visualize 3D scans and permits view navigation operations like rotate, pan, and zoom on full body model
Easier to use with very fewer user inputs required
Very precise measurements. Though the accuracy depends on the accuracy of the scanned model
How does the product work?
3D Measure Up takes a 3D scan of any human body in the form of OBJ/STL and uses various algorithms to compile a set of detailed and accurate measurements of body parts for length, circumference and locating important body landmarks.
STEPS:
Customers are asked to wear a tight-fitting cloth and get their body scanned using any 3D Scanner which will return the OBJ/STL model.
Save this body model on the computer
Start the 3D Measure Up application and load the scanned body model by clicking on "Load Model" button. You can browse to the folder where you have kept it
Click on "Measure Body" button to view some important body landmarks
You can move and adjust the planes to mark the landmarks more precisely
Click on "Measuring plane 1" to measure the circumference/girth of a body part like waist, arms etc.
Click on "Measuring plane 2" to measure distance between the two planes
You can adjust the two measuring planes to get the distance between desired body points. Measuring Planes can also be tilted to allow measurements at various angles
Why to use 3D Measure Up?
Tailoring:
Do you want to revitalize old tailoring tradition and practices with new technology?
Do you want to merge professionalism with 3D technology?
Medical:
View asymmetries in shape.
Track risk of obesity-related disease using Waist Circumference, Waist-to-Hip ratio, and body fat.
Industries related to 3D Body Measurement Technology
Medicine: To analyze posture. Can be used for the prosthesis and plastic surgery purposes.
Design process: To increasing accuracy while working with complex parts and shapes
Entertainment: To analyze and measure the created digital 3D models for movies, video games, virtual cinematography
Quality assurance and Industrial Metrology: In industrial processes such as assembly so as to assure that geometry of parts has the correct dimensions, fit together and finally work reliably.
"3D scanners have come a long way from being a million dollar research lab equipment to sub-100 USD attachment on an iPad. We are not very far from the day when each handheld device will have a 3D scanner built in. The possibilities that this technology opens up is limitless. Our 3D Measure Up tool allows you to manifest and capitalize on them", says Rajesh Bhartiya, CEO of ProtoTech Solutions.
Fig A: Length Measurement
Fig B: Girth/circumference measurement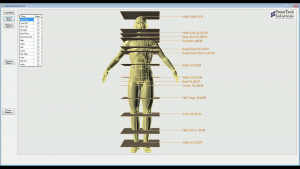 Fig C: Girth of few important body landmarks
ProtoTech is a custom software solutions company with skills in
Development of 2D/3D based Engineering applications
AR/VR Development
3D Visualization on -Desktop/Mobile/Web
Engineering 3D File formats & 3D Data Interoperability
Engineering Apps Development
Quality Assurance/Game Testing services
3D CAD plugin development on Autodesk/Solid works/Cero platforms
For more information click 3D Measure Up,