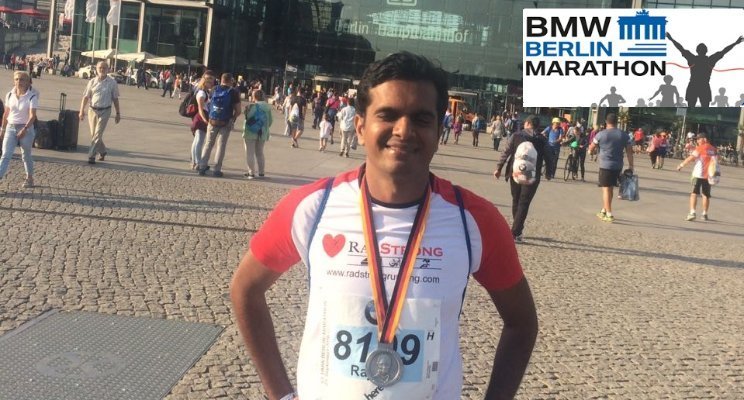 How running a successful business (ProtoTech) helped me run
How running a successful business (ProtoTech) helped me run
I am (or rather was) not a person who liked running. I could walk miles, trek peaks, play sports, but hated running. 43 yards were enough to make me pant, forget running 43 kms. Some chain of events (call it a butterfly effect) led to marathon getting on the top of the bucket list. I spent about a year to train for a marathon and ran on 25th September 2016 at Berlin. Here are three lessons that I learnt from running a successful business (ProtoTech Solutions and Services Pvt. Ltd.) for over a decade and applied to complete my first marathon successfully.
1. Get your goal right:
When I and Shilpa founded ProtoTech, we had a clear vision. We wanted to serve our customers with the best quality development resources who are as passionate about engineering software as we are. At the same time, we wanted to have a good work-life balance for our employees and ourselves. And finally, we wanted the ability to run the show without compromising the values we believed in. This clarity helped us a lot in planning and   making the decision.Running has many dimensions. There are races from 100 meters to 100 miles. Nothing is common in running a sprint and a marathon. You can even begin training unless you know what is your target distance and objective.
2. Faster is not always better. Your race decides your pace:
At ProtoTech, there were times when we had some opportunities too early for us in the game or big for our size. We knew we won't be able to deliver those in time or with quality that we take pride in. At the same time, the temptation to go for it was great. I am glad that we kept our focus.When I started running Berlin marathon, the weather was great, the energy of 40,000+ marathoners from all over the world was propelling. I had to deliberately slow down to keep the pace that would keep me sustained and not cause a burnout.

3.There is a life after the finish line:
Every business has targets attached and they are important. I have seen many founders getting obsessed with these targets and in the processes burning out themselves and their team. One needs to realize that after every target is achieved, you will need to stand up for next one.Theoretically, someone could just start running and end up in running a full marathon, just like the Greek soldier Philippides did. But remember, the legend also says that the soldier died at the finish line after he delivered the news. In reality, the chances of injury is definitely high. You will want to celebrate after the finish line and then think of the next race and how better you want do it. For it, it is must to preserve and persevere and not perish.
Author: Rajesh Bhartiya(CEO, ProtoTech Solutions)
"Rajesh is passionate about computers in engineering and has been designing software applications for over fifteen years. He has contributed significantly to the development of any 3D graphics libraries, geometry kernel and data exchange modules. He has consulted to many big software companies on design and optimization including applications for piping design, inspection and measurement, building information management etc.
Author: Rajesh Bhartiya
Contact us:
info@prototechsolutions.com
ProtoTech Solutions and Services Pvt. Ltd.