Is BIM same as Revit? If not, what is the difference?
Is BIM same as Revit? If not, what is the difference?
Why? The mixing notions exist within Building Information Modeling and Revit,
BIM is considered to be a piece of software before-mentioned as Revit, but,  Revit is one of the BIM tools available and is widely used for the creation of the 3D digital BIM model.
BIM is a process, a methodology and Revit is a single application built for BIM with features in the AEC industry.
Transparency is, BIM is a process and Revit is a tool to leverage that process. Therefore, Autodesk Revit is not BIM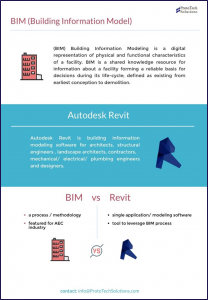 Fig: BIM Vs Revit
What is Revit?
Revit is a BIM-based software usually used by Architects, Engineers, Contractors, Designers to create blended models.
It is a platform that enables you to work on a single, integrated building information model to conceptualize planned layout, and finally document a design.
Autodesk Revit enables users to get the virtual models of a building project so they could have a virtual reality of the building before it's originally constructed.
Revit Software supports BIM allowing users to design an intelligent model with data stored in it.
What is BIM (Building Information Modelling)?
BIM is an intelligent 3D model-based process that provides BIM professionals to generate and manage digital representations of physical and functional features model designs.
It provides a modern approach to collaborative construction which is based on advanced software to create a central 'intelligent' integrated building model which is shared by all disciplines. Each discipline contributes its own information to the model.
Data from other disciplines is referenced and regularly revived to ensure compatibility.
BIM is indeed the future, that allows the joint works for architects, clients, builders, engineers, and the relevant actors to occur within a single intelligent and shared process.
Author: ProtoTech Solutions
Contact us:
info@prototechsolutions.com
ProtoTech Solutions and Services Pvt. Ltd.