ProtoTech Solutions Sharing Experience At Autodesk DevCon 2023 Event In Munich
ProtoTech Solutions Sharing Experience At Autodesk DevCon 2023 Event In Munich
About Autodesk DevCon 2023 in Munich
The Autodesk DevCon 2023, also known as the Autodesk Developer Conference, serves as the premier gathering for software developers and forward-thinking business leaders to gain insights into cutting-edge technology from Autodesk's team of experts. Attendees have the opportunity to connect with fellow developers and industry leaders, all while discovering how desktop APIs and the cloud-based Autodesk Platform Services, formerly known as Forge, can drive their company's growth and facilitate its digital transformation.
A Premier Event for Design and Technology Enthusiasts Autodesk DevCon, short for Developer Conference, is an annual gathering organized by Autodesk, a leading software company specializing in 3D design, engineering, and entertainment software. DevCon serves as a platform for developers, engineers, and designers to come together, learn about Autodesk's latest offerings, share their experiences, and collaborate on cutting-edge projects.
In the rapidly evolving world of technology and design, events like Autodesk DevCon serve as essential platforms for industry professionals to come together, share insights, and explore the latest innovations. In 2023, ProtoTech Solutions had the privilege of participating in Autodesk DevCon, held in Munich, Germany. This event marked a significant opportunity for ProtoTech Solutions to showcase its expertise and engage with the global community of professionals in the design and engineering field.
AEC including Forma:

AEC attendees enjoyed classes such as Autodesk Construction Cloud beginner and advanced API technical tips, how to connect Revit to the cloud, creating digital twins and dashboards, and more.
Digitizing your Business:

Enjoyed learning about App Store opportunities, business models, Certified Partners, security, reliability, and much more.

Manufacturing Industry:

Attendees from the Manufacturing industry were immersed in classes on building configurators, using the Viewer, connecting Inventor and Fusion to the cloud, and much more.

Sustainability:

Heard how APS enabled you to deliver insights to realize more sustainable outcomes for the future.

Autodesk Data Models:

Discovered how Autodesk Data Models and new data capabilities could increase your productivity, automation, and profitability.
ProtoTech Interaction with Autodesk's Experts at DevCon 2023 in Munich
Autodesk DevCon provided an excellent platform for ProtoTech Solutions to explore potential collaborations with Autodesk and other industry leaders. The event offered numerous networking opportunities, enabling ProtoTech Solutions to connect with professionals from diverse backgrounds. Through these interactions, ProtoTech gained valuable insights, exchanged ideas, and built relationships that could potentially lead to future collaborations.
At the heart of the cutting-edge technologies showcased at Autodesk DevCon 2023 in Munich was a profound conversation with Tobias Hathorn, the Director of Data Interoperability at Autodesk. His role in shaping the future of data exchange connectors across various platforms is nothing short of inspiring.
During our conversation, we dived deep into the world of data exchange connectors. These connectors serve as the vital link between different software applications and systems, enabling them to communicate, share, and manipulate data seamlessly. They play a pivotal role in streamlining workflows, breaking down silos, and fostering collaboration across diverse domains.
We explored the challenges and opportunities in data exchange, touching upon topics such as data format standardization, real-time synchronization, and the role of APIs (Application Programming Interfaces) in facilitating smooth data transfers. Tobias shared his vision for a future where data exchange across platforms becomes effortless, unlocking new possibilities for innovation and efficiency.
Farzad Towhidi and Shilpa Ghanmode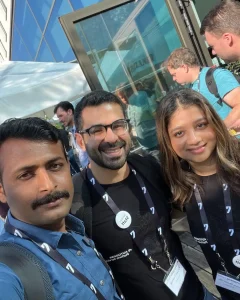 Our time at Autodesk DevCon 2023 in Munich was enriched by a remarkable encounter with two distinguished individuals in the field of technology and design: Farzad Towhidi, Senior Manager of Product Management for the Product Data Platform at Autodesk, and Shilpa Ghanmode, a Product Manager at Autodesk. Their illuminating discussions centered around AEC (Architecture, Engineering, and Construction) APIs and the integration of AI into Autodesk's tools.
Farzad Towhidi's expertise in product data platform management is instrumental in shaping the future of AEC workflows. His insights into the world of AEC APIs shed light on how these technological connectors are revolutionizing the collaboration and data-sharing processes among professionals in architecture, engineering, and construction.
Shilpa Ghanmode's role as a Product Manager at Autodesk is equally influential, particularly in the context of AI integration. AI is playing a transformative role in design and construction by automating tasks, enhancing design intelligence, and optimizing project management. Shilpa's insights into the seamless integration of AI into Autodesk's products underscore the company's commitment to innovation.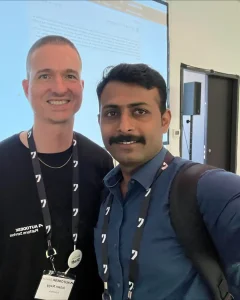 We had a fascinating encounter with Adam Nagy, the Senior Developer Advocate at Autodesk. His expertise in the realm of Inventor APIs left us with a deeper understanding of the power and potential these tools hold for developers and engineers.
During our conversation at the event, we delved into the intricacies of Inventor APIs—those essential building blocks that enable developers to extend the functionality of Autodesk Inventor and create customized workflows tailored to specific needs.
One of the key takeaways from our discussion was the immense potential of Inventor APIs to streamline design processes, automate repetitive tasks, and unlock new horizons in Computer-Aided Design (CAD). Adam's expertise illuminated the path for developers seeking to harness the full power of Inventor. As we look to the future of design technology, one thing is certain: Inventor APIs will continue to be a driving force in CAD development.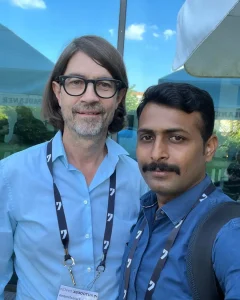 It's always a pleasure to reconnect with our incredible clients, especially those who've been with us from the beginning. At the Autodesk DevCon 2023 event in Munich, we had the pleasure of meeting Andreas Fleischmann, an esteemed and longtime customer of our Revit projects. The event brought us together once again, reminding us of the enduring partnerships that drive innovation and collaboration in the world of design and technology.
Andreas Fleischmann's history as a valued partner in our Revit projects has been instrumental in our journey. His insights, feedback, and unwavering support have contributed significantly to the success of our collaborative endeavors. Meeting him at Autodesk DevCon 2023 was a poignant reminder of the enduring connections that can be forged in the pursuit of shared goals.
In our conversation, we had the opportunity to reflect on the progress we've made together over the years. We discussed the evolution of Revit and the ever-expanding possibilities it offers to design professionals. Andreas shared his experiences and insights, offering valuable perspectives on how technology and collaboration have transformed the landscape of architecture and design.
Jim Quanci and Emile Kfouri
We were elevated by the privilege of meeting two distinguished individuals in the world of design and technology: Jim Quanci, Senior Director of the Autodesk Developer Network, and Emile Kfouri, Senior Technology Product Leader at Autodesk. Their presence at the event added an extra layer of insight and inspiration to an already dynamic gathering.
Jim Quanci, as Senior Director of the Autodesk Developer Network, plays a pivotal role in shaping the developer community and fostering innovation in Autodesk's ecosystem. His dedication to supporting developers and driving the growth of Autodesk's platform is evident in the vibrant community that has thrived under his leadership.
Emile Kfouri, in his role as a Senior Technology Product Leader at Autodesk, is at the forefront of technological advancements that are shaping the future of design and engineering. His insights into emerging technologies and their application in Autodesk's products provide a glimpse into the exciting possibilities that lie ahead.
Our conversations with Jim and Emile at Autodesk DevCon 2023 were enlightening and thought-provoking. We discussed the evolution of design and technology, the role of developers in driving innovation, and the transformative power of emerging technologies like AI and cloud computing.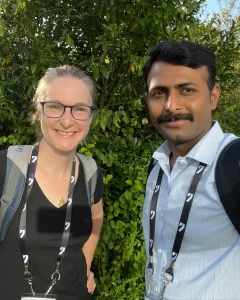 We were enriched by a remarkable encounter with Erica Beffert, a Group Product Manager at Autodesk. Her role in shaping the future of Autodesk's products and solutions left us with invaluable insights and inspiration.
Erica Beffert's leadership and expertise as a Group Product Manager are instrumental in driving innovation and excellence within Autodesk. Her dedication to enhancing the user experience and pushing the boundaries of what design and engineering software can achieve is truly commendable.
During our conversation at the event, we had the privilege of discussing the evolution of Autodesk's product ecosystem and the company's vision for the future. Erica shared her perspectives on emerging technologies, design trends, and the ever-increasing importance of user feedback in shaping the development of Autodesk's tools.
Big thanks to Autodesk for hosting this incredible event and fostering collaboration within the tech community. The Autodesk DevCon 2023 event in Munich was a vibrant gathering of like-minded individuals, all driven by a passion for innovation in design and engineering. Participating in Autodesk DevCon 2023 in Munich was a significant milestone for ProtoTech Solutions. It provided them with a platform to showcase their expertise, collaborate with industry leaders, and share their innovative solutions with a global audience. As ProtoTech Solutions continues to push the boundaries of technology and creativity, its participation in events like DevCon will undoubtedly remain instrumental in its journey towards innovation and growth. 
We achieved the milestone in its journey towards excellence. We are officially recognized as an Authorized Service Provider by Autodesk! This recognition is a testament to our unwavering commitment to delivering top-notch services and solutions in the world of design and engineering. Had an incredible conversation with Autodesk's expertise. It's amazing to see how technology is shaping the future of design. We can't wait to apply what we've learned to take our projects to the next level with Autodesk tools.